2p1e Virobloc Masks Technology & Testing
NPJ03 is an intelligent Swiss textile technology that is added to our masks during the final stage of the manufacturing process.
EFFECTIVE IN MINUTES
Strong antiviral and antibacterial effect against enveloped viruses and bacteria
HeiQ Viroblock NPJ03 has proven effective against Covid-19 in face mask testing
Suitable for all fiber types, from medical nonwovens (e.g. face masks) to fabrics for clothing and home textiles
For washable face masks: Lasts at least 30 gentle washes at 40°C (104°F)
Residual virus infectivity tested according to a modified ISO 20743 method (Sendai), rapid antiviral effect demonstrated within 2-5 minutes
Hypoallergenic, provides self-sanitizing and germ resistant surface
Patent pending antiviral and antibacterial technology
ANTIVIRAL FACE MASK TESTING DATA
Aerosol challenge test ASTM F2101(1): Face masks (N95/FFP2/KN95 type) treated with HeiQ Viroblock NPJ03 (Viroblock) have been tested according to GLP standards relative to the untreated control masks.(2)
Treated face masks show significantly improved reduction in virus infectivity compared to untreated control masks.(3)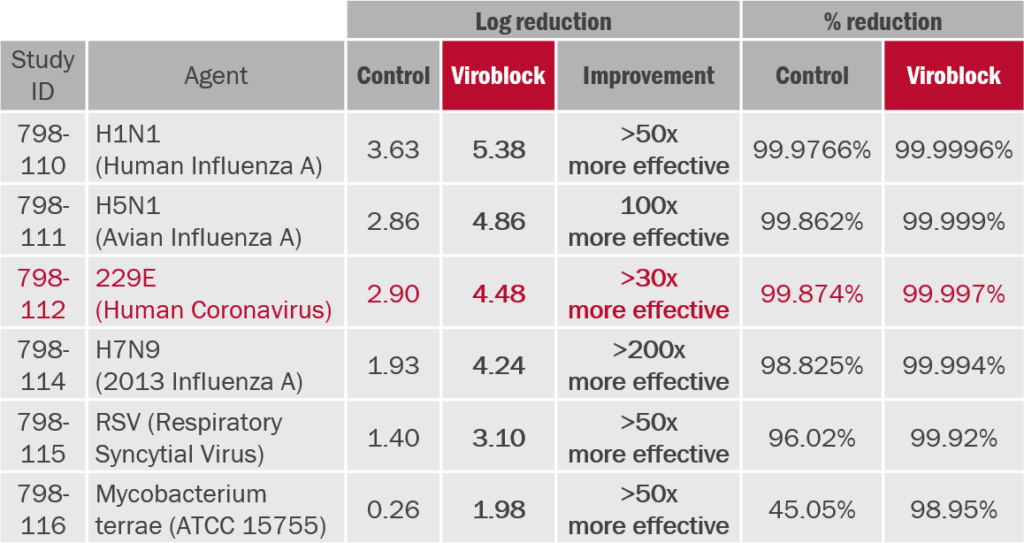 Antiviral efficacy test (ISO 18184): Nonwoven material for disposable face masks treated with HeiQ Viroblock NPJ03 has been tested according to ISO 18184 standard.
HEIQ ECO DRY IS…
…a family of innovative, eco-friendly and PFC-free water repellent textile technologies that provide protection against water and water-based stains. Bioinspired HeiQ Eco Dry keeps garments and footwear ecologically dry and equips textiles, leather and other fibers to handle wet weather conditions.
.
Consumers rate water-repellent as value-adding technology and care about its eco-friendliness. HeiQ Eco Dry products are available to a wide range of apparel, footwear and other accessories from outdoor to fashion. Wearers can stay dry no matter how wet and wild the weather gets.
HeiQ offers different DWR performance test methods, mostly performing the widespread spray test (AATCC 22).
FLUOROCARBON-FREE DURABLE WATER REPELLENCE (DWR)
High-performing, sustainable and durable water repellency
Fluorocarbon-free: no PFOA, no PFOS
Exceptional efficiency and durability to washing and dry cleaning
Complies with EU REACH, US TSCA, CA DSL, AU AICS, CN IECSC, JP METI, KR KECL, TW TCSI, ZDHC and most RSL regulations, bluesign approved and OEKO-TEX conform
Improves soft hand feel and preserves perfect breathability
High abrasion resistance
Applicable to all fiber types, from cellulosics, synthetics and blends, to leather and luxury fibers such as silk and wool
EN14683 Testing, Comparable N95 & Type IIR (type IIR is currently only available for hospitals and not listed on our website), Bacterial Efficacy, Filtration, Breathability, Washability